Cold Rooms For Rent
If you own a business that's in need of a cold room rental, you already know you're making the right choice (at least for now) by renting instead of buying. Renting gives you the opportunity to see how your refrigeration or freezer system works to meet your needs. This is a great step to take before making the commitment of purchasing a unit.
There are many different reasons why a business may need cold room freezer units, including:
Regulated refrigeration units for pharmaceutical and medical industries including bio-materials, clinical trials as well as bulk drug and vaccine storage.
Refrigeration needs for biological industries such as forensic crime scene investigations.
A power outage or breakdown of your normal freezer or refrigeration system, necessitating emergency refrigeration.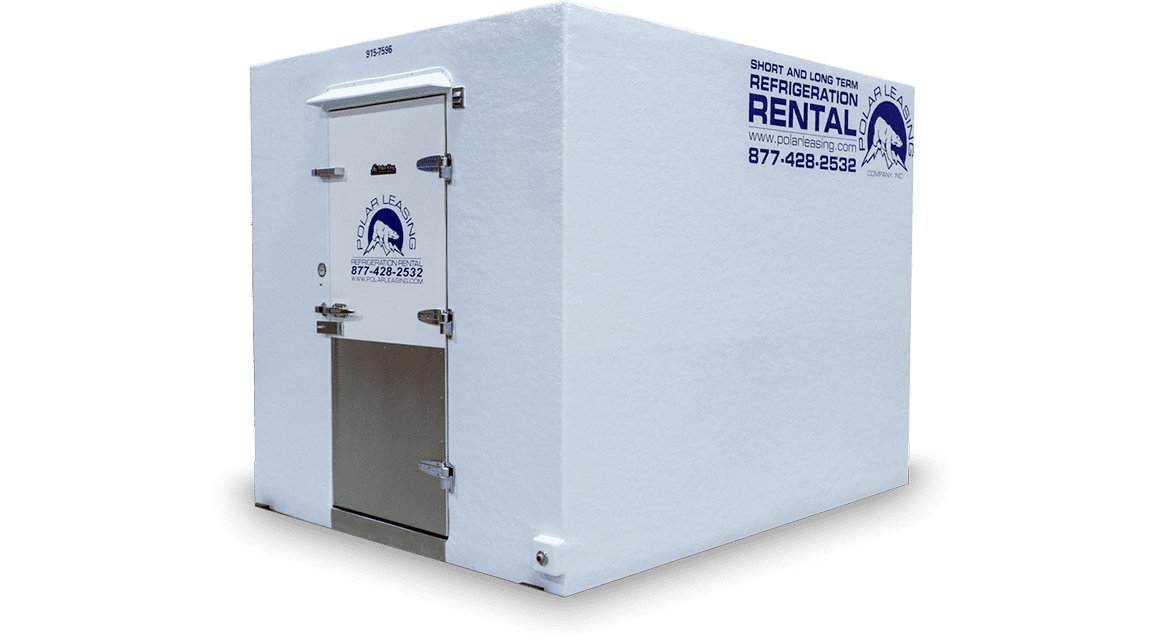 Since 2002, Polar Leasing has been a leading manufacturer of compliant temperature controlled cold rooms for use within the biological, medical, and pharmaceutical cold chain industries. Our prototype dual temperature 8'x10', 8'x20', 8'x20' HD Pallet and optional 8'x20' redundant cold rooms have been temperature validated. These validation reports and evaluations may serve as a baseline and offer the assurance of the required performance.
Regardless of the reason you're on the hunt for a cold room for rent, Polar Leasing Company, Inc. is here to help. We serve North America with the most efficient portable freezer and refrigeration unit rentals on the market today. 
Cold Room Rental Features
Our cold room freezer units are a hit with business owners for many reasons, including the following features:
Quick & Easy Installation:

All cold room rentals and freezer units arrive ready to use and are set in place by one of our Polar Leasing employees. Once your unit is plugged into an electrical connection it will begin cooling immediately. No on-site assembly or refrigeration work is required – we take care of the dirty work before the unit even gets to you.
Quiet & Efficient:

Fully electrically operated so you don't need to be concerned with fumes, fuel bills, or engine noise. However, you will either need a 208-220-volt single-phase electrical connection or a 25,000-watt or 8,500-watt generator to power your unit depending on its size.
KE2 Controlled Environment:

It's important for you to keep your cold room freezer unit's temperature to your exact specifications. Our remote temperature

KE2 Evaporator System

allows you to do just that, by monitoring the temperature and humidity of your product inventory. Each controller can be set up to provide notifications via text or email directly to your mobile device, allowing you to remotely view all the controllers in one location.

Convenient Storage:

Our mobile cold storage units can be placed anywhere. You don't need to worry about sectioning off an area of concrete to place your unit. Our units will rest on the grass, gravel, or other uneven surfaces. We'll work with the area you have available. We place our units so that they're easily accessible from ground level. You won't need to worry about providing a ramp or stairs to access your unit.
Built to Last:

There's no need to consider the weather when you rent one of our units. Our seamless units are sturdy and unaffected by bad weather, they do not absorb the heat of the sun and will not rust or dent. Our units are constructed using premium fiberglass, making them safe, sturdy, and reliable.
Secure Storage:

Our units use heavy, nonskid doors. This makes it easy for you to get in and out of your unit while also ensuring that the product in your unit stays cold. There's no worry about someone leaving the door open, due to self-closing hinges. Our freezer rooms also offer a locking mechanism to keep your items secure when you're not around.
Safe & Effective:

Afraid of someone getting locked in the freezer? We've thought of that, too. Our units include a safety release handle in case you or one of your employees gets stuck inside the unit. 
Sanitized Units:

At Polar Leasing we use NSF approved antimicrobial gel-coats for the interior of our cold room rentals. This is proven to prevent and inhibit the growth of microorganisms keeping your product fully sanitized.
Bright Interior Lighting:

When you're inside the unit, it's important that you're able to see your product. Our units include a pilot light/ light switch, making it simple for you to get around and see what you have in the freezer. We have additional lighting within the freezer as well, allowing you to see everything you have clearly.
Requesting a Reservation:

Have questions about installation, or struggling with a maintenance issue? No worries – we're here to help. We understand that refrigeration emergencies need a quick resolution, and our team is here for you 24/7 to address any concerns.
Seamless Unit Vs. Modular Cold Room
Our units are seamless, which makes them superior to a modular cold room. Our units arrive assembled, unlike a modular cold room, which requires that you set up the room yourself. Our fiberglass assembly means that your unit will withstand heat, cold, and any other extreme weather conditions. The same is not true of modular cold room units. We offer two different shapes and sizes of walk-in cold room freezer units. This makes it easy for you to get what you need, without the headache of assembling a modular unit. If you have concerns about the space you have available, talk to our sales team. We'll make sure we find the perfect seamless unit to meet your needs.
Call Polar Leasing Company, Inc.
We know that you have choices when it comes to cold room and freezer storage rentals, and we're glad that you're considering Polar Leasing Company, Inc. We're here to answer any questions you may have, as well as give recommendations on which of our products can best meet your refrigeration needs. Since 1995, we've been providing our clients with top-quality refrigeration, for both short and long term rentals. We have the largest refrigeration fleet on the continent, and we're here to meet your needs. Our units are available at a fast turnaround, in some instances they can be delivered within 12-24 hours. If you realize that your unit is a good fit for your business, we'd love to talk with you about transitioning from a rental unit to a permanent unit.
Please contact us for a no-obligation quote at (877) 260-7903. We look forward to working with you!