Polar Leasing presents a cutting-edge solution to address your large-scale refrigeration needs with our fiberglass modular buildings. Designed for various applications, our 16'x65′ portable warehouse buildings boast the same patented fiberglass design found in our standard outdoor walk-in freezers and coolers.
Benefits of Polar Leasing Portable Warehousing:
1.      Reduce On-Site Labor Costs: Our portable warehouses streamline the installation process, minimizing on-site labor requirements and associated expenses.
2.      Eliminate Costly Steel Structures: With our fiberglass modular buildings, you can say goodbye to expensive steel structures and enjoy a cost-effective alternative.
3.      Attractive Exterior Finishes: Our portable warehouse buildings are aesthetically appealing, ensuring they seamlessly integrate into your surroundings.
4.      Sanitary NSF Approved Interior: We prioritize cleanliness and compliance with industry standards. That's why our portable warehouses feature NSF-approved interior finishes, promoting sanitary storage conditions.
5.      Ten-Year Structural Warranty: We stand by the durability and quality of our products, offering a ten-year structural warranty for your peace of mind.
Durable and Spacious Portable Commercial Freezer & Cooler: Whether you need additional space for food manufacturing, refrigerated packaging, or expanded warehousing, Polar Leasing has the ideal modular solution for you. Our refrigerated buildings are typically faster to install and more cost-effective compared to traditional building methods. Furthermore, our portable warehouses retain their mobility, allowing for future expansion or relocation.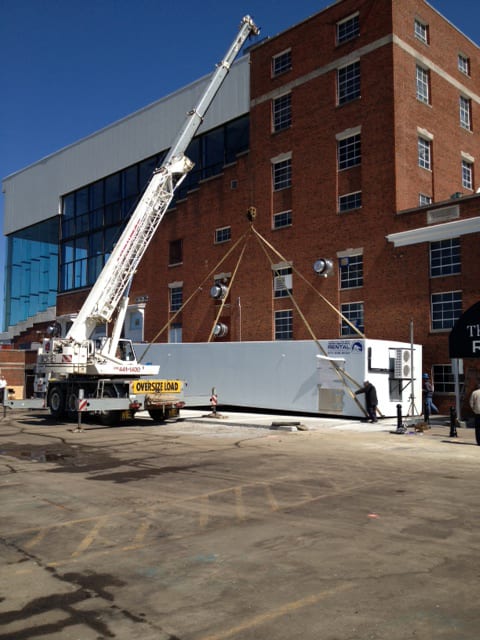 Customizable Specifications: Polar Leasing understands that each customer has unique requirements. That's why our portable warehouse buildings can be tailored to virtually any specification, including size, operating temperature, load capacity, and voltage. We are committed to providing a flexible solution that perfectly suits your needs.
Choose Polar Leasing for your portable warehousing needs and experience the convenience, efficiency, and quality that our innovative fiberglass modular buildings bring to the table.
16'x65' Portable Warehousing Approvals:
NSF Listed
UL Class 1 Foam
About Polar Leasing
With both long and short-term storage solutions available, Polar Leasing specializes in temporary freezer rentals, refrigerator rentals, and portable warehousing. Designed around the specific needs of the rental market, every Polar Leasing unit is built to the highest quality standards, with a patented seamless fiberglass design. With hundreds of distribution depots nationwide and thousands of rental units available, Polar Leasing offers the largest electric freezer and refrigeration fleet in North America. To find a Polar Leasing depot near you, or for more information, call 877-674-1348 or visit www.polarleasing.com.