Whether your school needs temporary storage for an event such as graduation or has long-term needs due to ongoing construction, you can turn to Polar Leasing.
Polar Leasing boasts the largest electric refrigerated fleet with hundreds of depots spread across North America. Polar Leasing tailors services to both short- and long-term rentals for emergency and short-term storage needs.
1.  School Walk-in Unit Delivery
Polar leasing delivers units in a straightforward process after you sign a contract. The contract stipulates the time and place of delivery. A delivery driver will arrive with your unit as scheduled and place your unit where you want it. Your school will simply need to connect the unit to an electrical source and you're ready to go.
2.   Operation and Use
The ground resting units are convenient and easy to use. The internal temperature shows on a thermometer next to the door and is readable from the outside. There is a temperature dial inside the unit to adjust the temperature.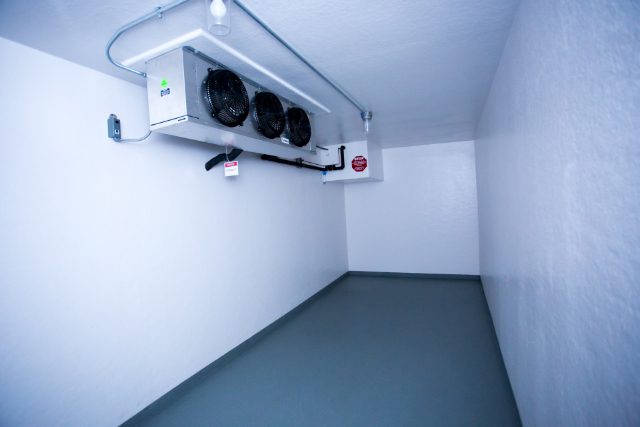 3.  Walk-in Unit Removal
At the end of your reservation, a delivery driver will come to remove the unit. All you must do is remove all the products you had stored in the unit over the rental period.
You should also inspect the unit to confirm it is in good condition and everything runs fine. The driver will load up the unit and take it to the nearest depot for preparation for the next event.
Advantages of Polar Leasing School Walk-in Units
The units come pre-assembled and ready for use; they require an electrical connection only.
Electric-powered units, so no fumes or engine noise at your school's event.
You can place the unit on any level surface including gravel and grass.
Seamless fiberglass construction is resistant to weather elements.
Polar Leasing is trusted by institutional settings to provide reliable commercial refrigerators and coolers as well as walk-in freezer rentals. Applications such as hospitals, universities, and correctional facilities utilize our short- and long-term temporary refrigeration solutions in their cafeterias and general food service operations.
Contact us today to request a reservation for your next event.