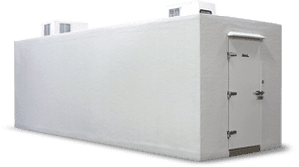 Polar Leasing Company's walk-in refrigeration units are designed and engineered specifically for outdoor use. Every unit is built to withstand the elements and to maintain its efficiency as outdoor conditions change. With thousands of units being used across the country and around the world, Polar King units offer worry-free operation under the worst conditions. From the intense sun of Arizona to the bitter cold of Minnesota; no climate is stronger than a Polar King.
Polar Leasing Company's 100% seamless fiberglass design provides a continuous surface which keeps the insulated structure completely intact; free of moisture damage and bacteria formation. Plus, all of the interior corners are rounded to further ensure a sanitary environment. The NSF approved flooring system provides a non-slip durable finish; which greatly reduces the risk of slips and falls. With the unit being completely seamless, it can easily be cleaned with a hose; without damaging the insulation.

Sun
A seamless exterior assures economical operation even in the most intense heat. Tested above 175°F, Polar Leasing's fiberglass design is the perfect fit for warm weather climates.
Rain
The inherent strength of fiberglass allows a Polar King unit to withstand blowing debris and abuse associated with heavy thunderstorms.

Salt
Saltwater can be a real challenge for operations near the coast, especially when dealing with a metal walk-in. Because fiberglass does not rust, dent or corrode, this problem is eliminated.

Snow
Even heavy snow is no match for a Polar King. The roof can be rated to withstand a snow load of up to 100 lbs. per sq./ft. Because of Polar King's construction, there is no need for steel framing.