Polar Leasing Company Inc., which offers the largest North American fleet of electric, ground-ready outdoor walk-in freezer and refrigerated rental units via a national distribution network, announces Meriden, Connecticut-based Northside Self Storage is the recipient of the company's inaugural Depot of the Year award. Polar Leasing is one of the Polar King family of companies.
Polar Leasing initiated the Depot of the Year award to recognize the challenging work and dedication member depots provide assisting in the delivery and pick-up of refrigerated containers and communicating effectively with end-users, according to Bart Tippmann, president of Polar Leasing. "Delivery and pick-ups are sometimes exceptionally difficult and require our depot partners to navigate extreme obstacles," he says.
Tippmann notes, "Polar Leasing has been expanding our footprint across the United States. We look for depots like Northside Self Storage that prioritize deliveries because they are often time-sensitive, especially when customers need a mobile unit to store food for a special event or emergency." He adds, "These depots deliver refrigerated containers via tow truck or flatbed trailer where and when they are needed."
Polar Leasing Depot of the Year
"This year's Depot of the Year winner has a great commitment to their customers. Their enthusiasm and unmatched customer service impels customers to lease Polar Leasing units time and again," says Tippmann. "Nothing stops Northside Self Storage from making deliveries. They even hopped on a ferry to deliver a Polar Leasing unit to a customer in Block Island on Rhode Island. That's that extra effort that makes Northside Self Storage an ideal Polar Leasing ambassador."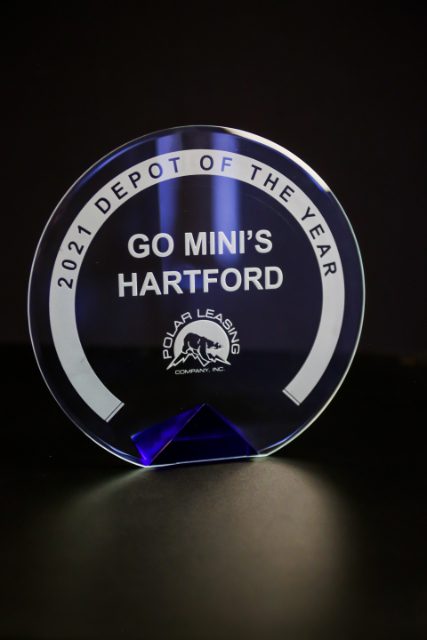 In business since 1984, Northside Self Storage has been a Polar Leasing partner for four years and has established ongoing relationships with Polar Leasing's national customer base, according to Northside Self Storage owner Renee DiGiacomo. "We get a lot of satisfaction helping our customers, whether it's a small business or a big corporation, food-related or a hospital in a real-time of need," she says. "With the partnership, we have with Polar Leasing, we are on call 24 hours a day and able to deliver the right walk-in rental."
Mobile storage containers and refrigerated containers from Polar Leasing are typically available for same-day delivery from Northside Self Storage, according to DiGiacomo. "The refrigerated portable storage is an affordable and reliable solution for customers who need items stored in a controlled, cool temperature," says DiGiacomo.
"We are grateful for the opportunity to be part of the Polar Leasing team and demonstrate how we can help their company grow," says Northside Self Storage co-owner Michael DiGiacomo. "We hit the ground running after coming on board and have a great relationship with the Polar Leasing team. It's nice to deal with a family-oriented company that is responsive to customers' needs."
Polar Leasing's walk-in commercial refrigerator and freezer rentals are an efficient way to supplement the cooling needs of every industry. The state-of-the-art walk-in coolers are simple to set up, feature a small footprint, and only require an electrical hookup to get started. Easy-to-use and hassle-free, the short-term refrigeration units are perfect for any commercial needs, from food and pharmaceutical storage to emergency situations and disaster response.
For more information, visit www.polarleasing.com.
About Polar Leasing
In early 2002, Polar Leasing Company, Inc., was created by Polar King to accommodate the growing demand for walk-in refrigeration rentals. It has expanded its walk-in rental fleet to cover most of the United States and other parts of North America, offering both short- and long-term rentals to industries of all types. Within the last 5 years, we began the process of building a specific division dedicated to the Life Science Supply Chain. Polar Leasing offers the largest all-electric fleet of temporary refrigeration, with more than 80 distribution depots and a 24/7 service hotline. For more information, visit polarleasing.com or contact Polar Leasing, 4410 New Haven Ave, Fort Wayne, IN 46803 USA. In an emergency, call 866-574-4573 or write rentals@polarleasing.com.