Model DT820 is an 8'x20' Polar Leasing walk-in cooler and freezer unit. This electric-powered refrigerated storage rental features a rugged seamless fiberglass construction and can withstand even the harshest environments.
The DT820 (8'x20') ground resting refrigeration and freezer rental provides temperature ranges from 35°F (2°C) to -10°F (-23°C).
Available in both long and short-term rentals, Polar Leasing's DT820 is ideal for use during seasonal overflow, pharmaceutical testing, or emergency situations.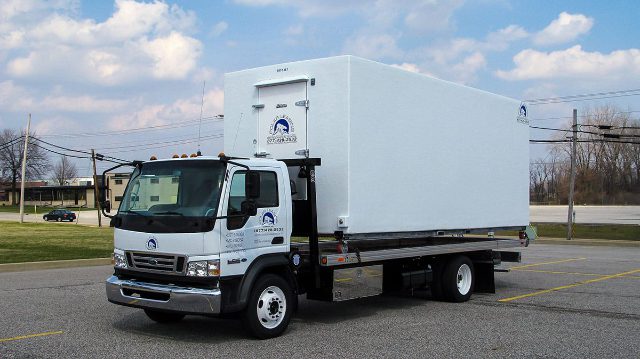 NSF Approved and Energy Efficient Walk-in Coolers and Freezers
Polar Leasing provides cooler and freezer rental units throughout the United States, with rental units available in a variety of sizes and operation temperatures. All rental units are NSF-approved, energy efficient, and are a great solution for emergency refrigeration needs.
DT820 Walk-in Cooler Approvals:
NSF Listed
UL Class 1 Foam
Insulation:
Polyisocyanurate Foam: 4" Thick X 2.0 PCF Nominal Density
Fiberglass:
100 Mil Thick FRP Composite-Exterior
80 Mil Thick FRP Composite-Interior
DT820 Exterior Finish:
Seamless Fiberglass
2-Part Epoxy Paint
DT820 Interior Finish
NSF Approved Flooring – Non-Skid Floor
Finish – 29 Grade Sand Aggregate
Rounded Corners Lockable Door Latch
Self-Closing Hinges
Hasp Lock (Ext. Door)
Safety Release Handle
Heated Door Jamb
Magnetic Gasket
Door Closer
Sweep Seal
Vinyl Strip Curtain
Galvanized Frame
Low Ambient Controls
Defrost Timer
Heated Relief Port
Light Switch/Pilot Light
Rain Cap Exterior Doors
Remote Dial Thermometer
Interior Lighting
Crowned Roof
Heated Freezer Door
Stainless Steel Kick Plate
Forklift Capable Frame

About Polar Leasing
With both long and short-term storage solutions available, Polar Leasing specializes in temporary freezer rentals, refrigerator rentals, and portable warehousing. Designed around the specific needs of the rental market, every Polar Leasing unit is built to the highest quality standards, with a patented seamless fiberglass design. With hundreds of distribution depots nationwide and thousands of rental units available, Polar Leasing offers the largest electric freezer and refrigeration fleet in North America. To find a Polar Leasing depot near you, or for more information, call 877-674-1348 or visit www.polarleasing.com.