In the realm of commercial refrigeration and freezer solutions, the DT820P Pallet Door Cooler/Freezer by Polar Leasing stands out as a versatile and efficient option. In this blog post, we'll dive into the features and benefits of the DT820P, highlighting its unique attributes and suitability for diverse applications.
A Walk-in Combination Freezer and Refrigeration Unit
The DT820P is no ordinary cooler or freezer. It's a walk-in combination unit designed to accommodate both freezing and refrigeration needs. With temperature ranges from 35°F (2°C) to -10°F (-23°C), this unit can adapt to various storage requirements, making it a versatile choice for businesses in the food industry, pharmaceuticals, event catering, and more.
Tailored for Accessibility: DT820DP Pallet Door Cooler/Freezer 
This unit is constructed with a heavily reinforced door that can accommodate a 54" hand pallet jack. This unique design makes loading and unloading a breeze, particularly for businesses that require efficient and easy transportation of goods.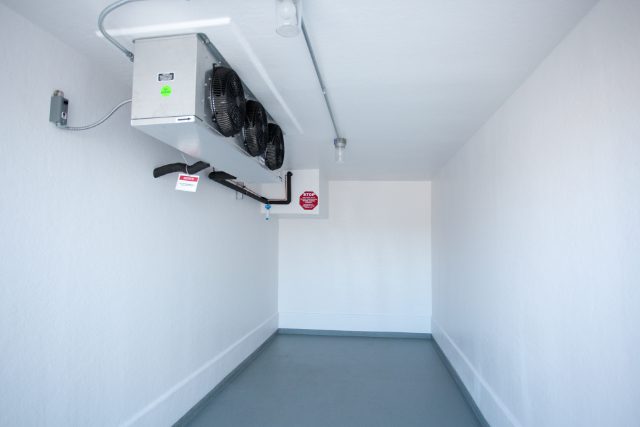 Durability Meets Convenience: Heavy Duty Flooring and Bumper
The DT820P units come with heavy-duty flooring that's capable of handling up to 5,000 lbs. per square foot. This durability ensures that you can store your goods without worrying about compromising the structural integrity of the unit. Additionally, the interior is equipped with a bumper that provides added protection against any accidental damage to the rental unit.
Ease of Use and Installation: DT820DP Pallet Door Cooler/Freezer 
Polar Leasing prides itself on delivering units that are pre-wired, pre-assembled, and ready to operate. Connecting the electrical components is a straightforward process, reducing the need for complex installations. The units are electric-powered, eliminating concerns about fumes, fuel bills, or noisy diesel engines.
The DT820P Pallet Door Cooler/Freezer by Polar Leasing is a remarkable solution that brings together convenience, accessibility, durability, and versatility. Whether you're in need of freezing or refrigeration capabilities, this unit stands ready to meet your demands. Its unique design features, user-friendly attributes, and thoughtful construction make it an ideal choice for businesses looking to streamline their storage processes and ensure the freshness and quality of their stored items.