Polar Leasing Company, Inc. (PLC) announces its fleet of rental walk-in units now feature the industry's most innovative internal and external smart technology to improve and control temperature consistency, product integrity, energy efficiency, and safety. 
KE2 Therm Solutions technology, used in select Polar Leasing walk-in cold storage units, ensures the most accurate temperature verification, which is crucial in many industries, particularly pharmaceutical applications. The KE2 Therm Solutions is available within two Polar Leasing walk-in units: the WL820 Temperature Cold Room and the DT820RP Redundant Walk-In Cooler and Freezer. 
Smart Technology for Precise Temperature Control
Bart Tippmann, president of Polar Leasing, says, "These state-of-the-art controls also help keep costs down by improving energy efficiency by as much as 50% and protecting the integrity of products for a longer duration." 
The WL820 Temperature Controlled Cold Room is an 8'x20' ground-resting unit designed specifically for the pharmaceutical cold chain, with temperatures ranging from 0°F to -22°F. The DT820RP Redundant Walk-In Cooler and Freezer is engineered for customers with precise temperature requirements. Each unit is temperature validated and features a redundant refrigeration system.   
A combo display on the outside of every walk-in unit monitors both temperature and light and features a temperature alarm. Remote connectivity capabilities give users access to real-time control, alerts, and data 24/7.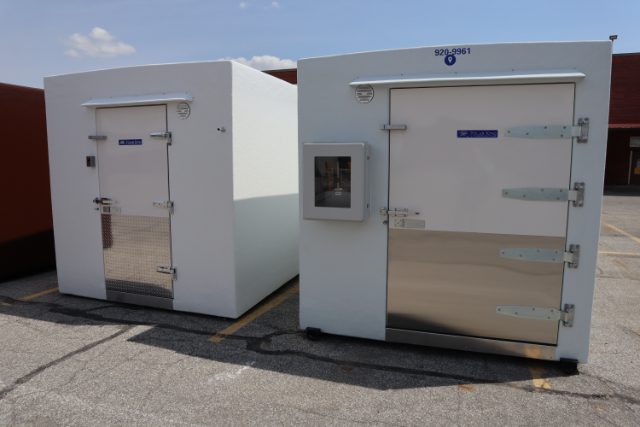 Internally, there is a KE2 Therm controller on each of the evaporator coils. These two controllers are synchronized to provide even run time of the redundant systems, with one operating as primary and the other as a backup. Most pharmaceutical operations require redundant systems to ensure internal products remain consistent.  
Polar Leasing outdoor walk-in freezer and refrigerator rentals are delivered pre-assembled and ready to operate with a simple electrical connection. The innovative units are American-made, simple to set up, and feature a small footprint.  
For more information, visit www.polarleasing.com or call 877-428-2532. 
About Polar Leasing 
In early 2002, Polar Leasing Company, Inc., was created by Polar King to accommodate the growing demand for walk-in refrigeration rentals. It has expanded its walk-in rental fleet to cover most of the United States and other parts of North America, offering both short- and long-term rentals to industries of all types. Within the last five years, we began the process of building a specific division dedicated to Life Science Supply Chain. Polar Leasing offers the largest all-electric fleet of temporary refrigeration, with more than 80 distribution depots and a 24/7 service hotline. For more information, visit polarleasing.com or contact Polar Leasing, 4410 New Haven Ave, Fort Wayne, IN 46803 USA. In an emergency, call 866-574-4573 or write rentals@polarleasing.com.