Today, we have the pleasure of bringing you an exclusive interview between Polar Leasing and Kim Fergus, Associate Store Team Leader at Whole Foods Market, one of the leading names in the organic and sustainable food market.
In this insightful conversation, we explore how Polar Leasing, a renowned provider of portable cold storage solutions, has become an indispensable partner for Whole Foods, offering their innovative walk-in coolers to meet the specific refrigeration needs of the supermarket giant.
In this compelling interview, Kim Fergus will shed light on the challenges Whole Foods Market faced before partnering with Polar Leasing, the impact this collaboration has had on their operations, and the shared values and dedication to excellence that have made this alliance a resounding success.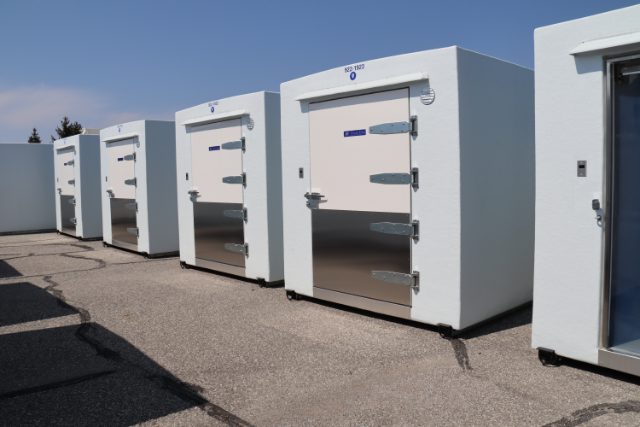 Polar Leasing Interviews Whole Foods Market
PLC: First, give us a brief history of Whole Foods Market.
Kim Fergus: Whole Foods Market has been operating since 1980 and as we have grown and expanded our stores and locations, we find that at certain times of year we outgrow our space and need additional refrigeration space in a temporary capacity.
PLC: How do you use your Polar Leasing walk-in units? How has Polar Leasing walk-in units contributed to your success?
K.F.: We have utilized the PLC walk-ins at multiple locations in Columbus, OH for our holiday product.  The flexibility of these units to be dropped at our locations for a month at a time has helped our stores to operate successful holidays. We are able to use electricity to run the units and to keep our products stored separately from everyday products. This organization greatly supports the success and safety for our teams during the hectic holiday season.
PLC: Why did you decide to use walk-in coolers/freezers from Polar Leasing, as opposed to other companies?
K.F.: We contacted Polar Leasing in 2013 to support our Upper Arlington location with extra refrigeration for the holidays as this team needed an electric option. The Polar Leasing team provided excellent communication, service and support and we have continued to partner with them each year since.  Appreciation to the team for your consistency and support, even as our points of contact have changed over the years, the service level has not changed.
PLC: Can you share a bit about the process of renting a PLC unit? Was it a smooth process for you?
K.F.: The rental process has been as simple as reaching out a few months in advance via email or phone to establish the rates and needs for each store location. The Polar Leasing Team has great communication and follow up and delivery/pickup process has always been smooth and headache free.
PLC: Anything else we should know about the Polar Leasing units?
K.F.: THANK YOU !!!!  We appreciate your partnership!
About Polar Leasing
In early 2002, Polar Leasing Company, Inc., was created by Polar King to accommodate the growing demand for walk-in refrigeration rentals. It has expanded its walk-in rental fleet to cover most of the United States and other parts of North American, offering both short- and long-term rentals to industries of all types. Within the last 5 years we began the process of building a specific division dedicated to Life Science Supply Chain. Polar Leasing offers the largest all-electric fleet of temporary refrigeration, with more than 80 distribution depots and a 24/7 service hotline. For more information, visit polarleasing.com or contact Polar Leasing, 4410 New Haven Ave, Fort Wayne, IN 46803 USA. In an emergency, call 866-574-4573 or write rentals@polarleasing.com.