Polar Leasing Company, Inc. (PLC), North America's leading provider of validated electric, ground-ready outdoor rental walk-in freezer and refrigerated units, will showcase a 5'x7' walk-in cooler and freezer at INTERPHEX 2023. The show runs Apr. 25-27 at the Javits Center in New York City.
INTERPHEX 2023
Jimmy Kollmer, Polar Leasing's national cold chain manager, and David Kelty, an inside sales representative, will be available at the company's booth, No. 1028, to answer questions and offer insights about rental cold storage solutions for the pharmaceutical and life sciences industries.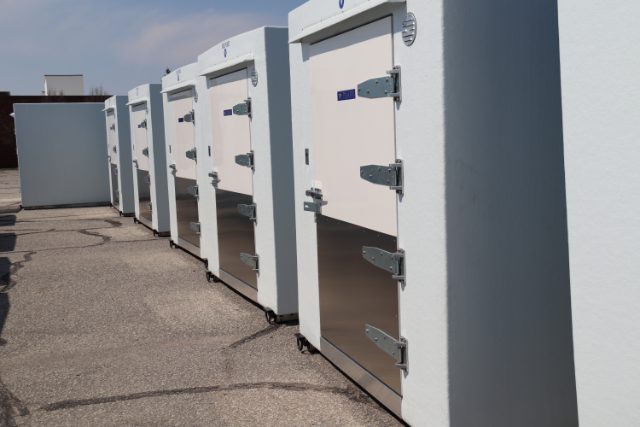 "The COVID-19 pandemic has underscored the critical role of temperature-controlled systems in maintaining the effectiveness of pharmaceutical products," says Kollmer. "We are excited to highlight our cutting-edge rental cold chambers at this important event, and to continue raising awareness about how rental options support businesses in safeguarding their valuable inventory on a daily basis."
INTERPHEX is the leading global event that fuses industry innovation with conferences and networking events among 500 global suppliers. To learn more about INTERPHEX, visit interphex.com. For more information about Polar Leasing, call (877) 674-1348, or visit www.polarleasing.com.
About Polar Leasing
In early 2002, Polar Leasing Company, Inc., was created by Polar King to accommodate the growing demand for walk-in refrigeration rentals. It has expanded its walk-in rental fleet to cover most of the United States and other parts of North America, offering both short- and long-term rentals to industries of all types. Within the last five years, Polar Leasing began the process of building a specific division dedicated to the Life Science Supply Chain. Polar Leasing offers the largest all-electric fleet of temporary refrigeration, with more than 80 distribution depots and a 24/7 service hotline. For more information, visit polarleasing.com or contact Polar Leasing, 4410 New Haven Ave, Fort Wayne, IN 46803 USA. In an emergency, call (877) 674-1348 or write rentals@polarleasing.com.