Are you looking for a temporary cold storage option that's more durable, convenient, and affordable than traditional reefer trucks or trailers? Polar Leasing offers both short- and long-term rentals to industries of all types. Here are three reasons these portable walk-in cold storage units are a perfect fit for your business.
The Fiberglass Advantage
Most reefer trucks and trailers have metal exteriors, making them vulnerable to the elements of being outdoors. Polar Leasing walk-in coolers and freezers are specifically designed for outdoor use. Each unit's exterior is made from fiberglass, which is seamless in design, waterproof, and does not absorb the heat of the sun. Polar Leasing units also will not dent or rust which is something metal-sided trucks and trailers cannot offer.
No More Climbing
Polar Leasing units sit directly on the ground, ensuring you don't have to climb into them. Compare that to traditional reefer trucks or trailers that normally sit 4 feet above the ground. Polar Leasing units weigh less than 2,000 lbs. and can be placed on almost any type of level surface. They can even be placed directly behind your kitchen or onsite at your event.
An Economical Solution to Reefer Trucks and Trailers
Most reefer truck rentals charge for refrigeration runtime and diesel refueling. This can become a costly (and smelly) endeavor. Polar Leasing doesn't charge for refrigeration runtime, nor do you have to worry about refueling costs or the smell of diesel fumes. Each Polar Leasing unit operates on an efficient electrical connection.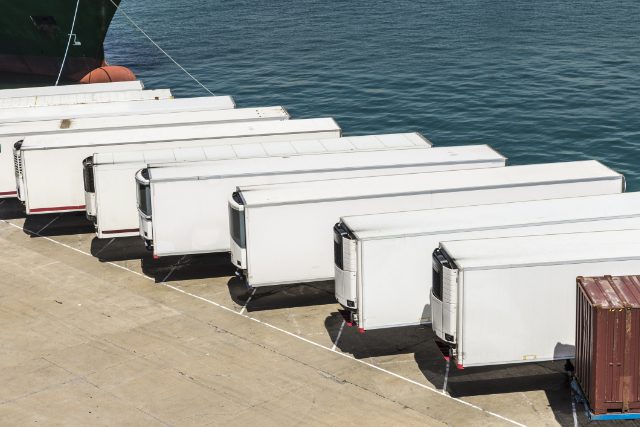 Polar Leasing: An Alternative to Reefer Trucks
Polar Leasing units offer a better alternative to traditional reefer trucks and trailers. If you would like to find out more about Polar Leasing units, contact us. We would love to help set you up with the best option for your short- or long-term cold storage solutions.
About Polar Leasing
In early 2002, Polar Leasing Company, Inc., was created by Polar King to accommodate the growing demand for walk-in refrigeration rentals. It has expanded its walk-in rental fleet to cover most of the United States and other parts of North America, offering both short- and long-term rentals to industries of all types. Within the last 5 years, we began the process of building a specific division dedicated to Life Science Supply Chain. Polar Leasing offers the largest all-electric fleet of temporary refrigeration, with more than 80 distribution depots and a 24/7 service hotline. For more information, visit polarleasing.com or contact Polar Leasing, 4410 New Haven Ave, Fort Wayne, IN 46803 USA. In an emergency, call 866-574-4573 or write rentals@polarleasing.com.